UNA TROY: Irish Writer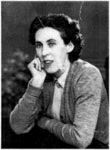 Born May 21, 1910 in Fermoy, County Cork, Una Troy was the daughter of John and Bridget (Hayes) Troy. In 1931 she married Joseph C. Walsh, doctor, and lived her married life in Clonmel, County Tipperary.

She began her writing career under the name of Elizabeth Connor, publishing her first novel Mount Prospectat Methuen (London) in 1936 when she was 26. This book was banned in Ireland. Her second novel of that period, Dead Star's Light,was published by Methuen (London) in 1938.

In 1940 she adapted Mount Prospectfor the stage, winning the Shaw 1st Prize from the Abbey Theatre, Ireland's National Theatre where it was successfully produced. She continued to write for the Abbey Theatre, producing three more plays: Swans and Geese(1941), Apple A Day(1942), and Dark Road (1947), which was based on her novel Dead Star's Light.

She had two short stories published in this earlier period of writing as Elizabeth Connor: " The White Gloves," Ireland Today, Sept. 1937 and "The Apple," The Bell, Oct. 1942. "The Apple" has appeared in anthologies of Irish writing, including the Field Day Anthology of Irish Writing Volumes 4 & 5 released from Cork University Press.

Beginning in the mid-fifties she published all her work as Una Troy, producing fifteen novels, published in both London and America. Her novel We Are Seven, published by Heinemann in London in 1955, was adapted to a film, "She Didn't Say No" for which she was the co-writer. The film was England's official entry in the Brussels World Film Festival in 1958, and was banned in Ireland as being "immoral."

Following her death in 1993, her daughter Janet Helleris, found an unpublished manuscript "Fly By These Nets" in her mother's papers. In 2001 this manuscript, written in English, was translated into German and published by Deutscher Taschenbuch Verlag, Munich as Das Meer ist Music.It has not yet been published in English.

© 2002 Ann M. Butler e-mail
---

THE WORK OF ELIZABETH CONNOR/UNA TROY
Member: Society of Authors, Playwrights and Composers, P.E.N., Soroptimists

Written as Elizabeth Connor:
Plays: Mount Prospect, 1940 (Shaw 1st prize-Abbey Theatre)
Swans and Geese, 1941
Apple A Day, 1942
Dark Road, 1947
Novels:
Mount Prospect, 1936 (Methuen) (No House of Peace, US, 1937)
Dead Star's Light, 1938 (Methuen)
Short Stories:
"The White Gloves," Ireland Today,Sept. 1937;"The Apple," The Bell, Oct. 1942

Written as Una Troy:
Novels:
We Are Seven, 1955 (Heinemann)
Maggie, 1958 (Heinemann)...Miss Maggie and the Doctor (US)
The Workhouse Graces, 1960 (Heinemann)...Graces of Ballykeen (US)
The Other End of the Bridge, 1960 (Heinemann)
Esmond, 1962 (Hedder and Stoughton)
The Brimstone Halo, 1965 (Henry Hornbuth)...The Prodigal Father (US)
The Benefactors, 1969 (Hale)
The Castle Nobody Wanted, 1970 (Hale)
Tiger Puss, 1970 (Hale)
Stop Press, 1971 (Hale)
Doctor Go Home, 1973 (Hale)
Out Of Everywhere, 1976 (Hale)
Caught in the Furze, 1977 (Hale)
A Sack of Gold, 1979 (Hale)
So True a Fool, 1981 (Hale)
(U.S.publisher: Dutton)
Short Stories:
"The Best Butter," Kilkenny Magazine, Spring-Summer 1966.
Film:
"She Didn't Say No" 1958 (co-writer, based on Troy's novel, We Are Seven)

Unpublished novels in manuscript form:
Better to Burn
Fly By These Nets (published as Das Meer ist Musik, Deutscher Taschenbuch Verlag, Munich, 2001)

This site proudly hosted by monkeybrains.net!